Big SISTER 1/3

Weakness
None
Boss
Third
Big SISTER 1/3 is a Boss in The Surge. Big SISTER 1/3 is an extremely difficult boss fight, against a large force of robotics being controled by a "brain".
Big SISTER 1/3 Location
Big SISTER 1/3 Drop
Big SISTER 1/3 Strategy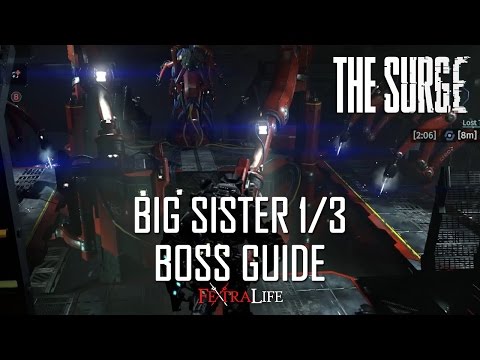 The strategy here is the arms will alternate attacking one of 3 attacks, a lunge, a smash attack and a swipe attack. You'll have to learn to recognize which is which. Every second arm attack a laser will try to hit where your standing from the front and then a second or so later again where your standing from the back, so be sure to avoid that and don't attack unless you're sure you won't get hit. That's it for phase 1.

In phase 2 you will need to defeat the arms and the "head". The camera angle can be tricky here, but the best idea is to stay in one of the closest corners because only 2 arms can hit you there. Take one arm down and then another and then move to the other side and repeat. The laser will keep attacking you, so besure to dodge it and after a little while the floor will turn electric damaging you, so don't take too long. Make sure you have lots of heals and play aggressively, but only in these corners.

Finally in the last phase you will need to get close to the head, dodging it as you approach since it likes to lunge and you'll have to fight it in a zoomed out sort of setting. It's a bit weird, and it will take you a bit to get used to it, but you cannot move backwards or the camera will zoom in and if you do this a lot you will get killed by the camera angle, so learn to force yourself to stay close to the boss. Running attacks don't seem to work here, at least not the way they do normally, so slow swinging weapons that use these attacks are at a serious disadvantage. I suggest switching to something that has a faster attack speed for this part, or for the fight entirely. Really in this phase you want to play aggressively, you just don't want to get grabbed when he goes up off screen and comes down, so if you see him go up off screen dodge back and wait.
Big SISTER 1/3 Hardcore Strategy
To get hardcore kill, you must not kill any arms in phrase 2 and go for the head immediately.
Big SISTER 1/3 Tips/Notes
If you are using a heavy weapon or Single-Rigged you may want to switch to something faster for this fight.
??
Join the page discussion
Tired of anon posting? Register!